I am very happy to be taking part in the
Crazy Cooking Challenge

hosted by Tina at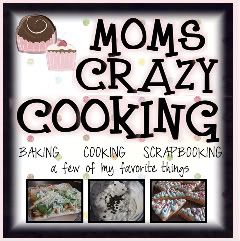 The challenge this month is

Macaroni and Cheese

. I found a wonderful recipe from



Our Life in the Kitchen
The recipe is for Bacon Macaroni and Cheese.
I know, I know, you ask how could Mac and Cheese be any more rich and decadent? But believe me, adding the bacon took it to the next level.
It was absolutely delicious!!
This recipe was super easy, compared to other homemade mac and cheese recipes and was unbelievably rich. Definitely a keeper, not to be eaten everyday though, unless I want to end up in the hospital. I only made a one change to this recipe (substituted some of the cheddar cheese for a Colby/Monterey Jack blend--it's what I had on hand).
Bacon Macaroni and Cheese
1 pound bacon
1 pound cheddar cheese, shredded
1 pound Colby and Monterey Jack blend cheese, shredded
6 tablespoons bacon grease
1/2 cup flour
3 1/2 cups milk
1 pound elbow macaroni, cooked al dente
black pepper
1/4 cup Panko bread crumbs
In a large pan, fry the bacon until crisp and reserve the grease to use to make the sauce.
Over medium heat, add back in 6 tablespoons of the reserved bacon grease (try not to think about it too long) add the flour. Stir for 3-5 minutes until the flour starts to brown a little. Add the milk and stir until smooth and creamy. Add half of the shredded cheese and stir until combined.
Add the cooked noodles and a generous amount of the black pepper. Remove from heat at this point.
In a deep baking dish, layer the macaroni on the bottom. Add some of the bacon pieces.
Add a layer of the shredded cheese.
Repeat two more times. Top with the Panko bread crumbs and more bacon pieces.
Cook at 350 degrees for 25-30 minutes or until bubbly and brown.
Pin It
Enjoy,